It's just after eight in the morning on our last day in Glasgow. The early light is greying a little with cloud. On the street below our apartment, a man slips the collar from his dog and it runs on ahead. People are out, walking, cycling, but there are long moments when the streets are noticeably empty. A man walks past at a steady pace. He wears a temporary mask under his chin. We've seen this before in our past days in the city, it seems smart, allowing people to raise or lower their masks easily when going in and out of buildings. It is a sign that people are going in and out of places, which itself marks a particular stage in the slow, staggered process of unlocking. It is a trick, a technique, smoothing one's journey through a city. In contrast, we have become acutely aware that our practice of finding and fixing masks at entranceways resembles something of an operation.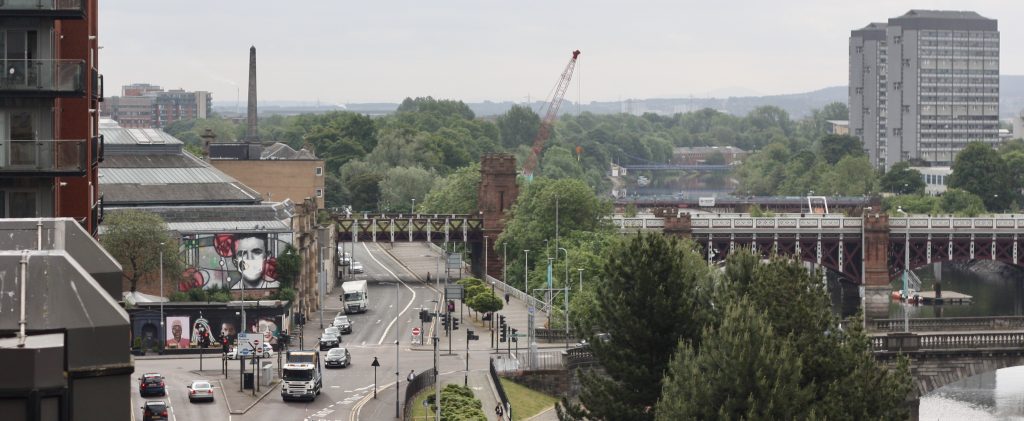 We realise, of course, that this small practice is not likely to be happening only here. We remind ourselves that we see little of the world at present, and that our lives as researchers, our daily understandings of places, and our restricted movement in and between places, will inform our reading of the cities in and with which we are working on this project. While it may be a familiar practice here and elsewhere, that seems likely to reflect the cultures and practices of those places. Chandini Raina MacIntyre et al. reflect on the significance of mask wearing in 'countries without a culture of mask wearing' (2021, p.200). In these contexts, they found that 'negative issues experienced while wearing masks reduced the likelihood of people wearing them' (ibid. p.205). Practices that reduce these issues may well reveal a route to more-sustained mask use and more sustained engagement with the population-based responses to the pandemic that are so critical to containment. We watch the street a while longer, caught by the significance of these small individual practices and the significance of smoothing the interruptions of the pandemic for sustaining city life.
As we come out of our first field research in Glasgow, we're developing two pieces of academic writing about interventions into city thinking that emerge from the work of arts organisations. Where one will look at ways in which arts programming might be useful to city emergency planning, the other will focus on the ways in which specific artistic and everyday practices in cities invite us to reimagine social distancing in those cities and beyond. Alongside these articles, we will share an emerging data-set that reports on artistic practices and programmes in Bristol, Glasgow and Newcastle, which are about or which have directly responded to the pandemic.
Reference
Chandini Raina MacIntyre, Phi-Yen Nguyen, Abrar Ahmad Chughtai, Mallory Trent, Brian Gerber, Kathleen Steinhofel, Holly Seale (2021) 'Mask use, risk-mitigation behaviours and pandemic fatigue during the COVID-19 pandemic in five cities in Australia, the UK and USA: A cross-sectional survey', International Journal of Infectious Diseases, 106, pp.199-207.